What is BIGO LIVE
Posted by BIGO LIVE
What are the main features of the BIGO LIVE app? How does BIGO LIVE work? Is BIGO LIVE a safe social networking app? Here's the full review of BIGO LIVE.
Download BIGO LIVE on the Play Store or App Store today!
What is BIGO LIVE
Based in Singapore, BIGO LIVE is a global live video streaming platform that allows users to show their life in real time with followers and connect people around the world. As one of the most popular live streaming platforms, it now has approximately 400 million users across 150 countries.
Category: Social Networking
Google Play Rating: 4.5
Features of BIGO LIVE
Users can go live with solo video streaming, group video chats, or watch live stream videos from other broadcasters.
Video calls can be one-on-one or group chats with up to 9 users.
The Audio Chat Rooms are designed for users to voice chat with strangers without the need for video.
Connect, stream or watch others live-stream popular games, such as PUBG, World of Warcraft, Minecraft, GTA, Fortnite, Dota 2, Hearthstone, Rules of Survival and more.
Similar to Snapchat and Instagram Stories, there are several filters available that can change the user's appearance.
Broadcasters can earn real money from virtual gifting by sharing their talent with fans all around the world
How Does BIGO LIVE Work?
BIGO LIVE makes live streaming easy and accessible on your smartphone so shooting live moments in daily life can be done just by tapping a few buttons. BIGO LIVE lets you (known on the app as a 'broadcaster' or 'host) broadcast videos, chat, share and follow different broadcasters.
During your live stream, followers can type in comments that you and other viewers will see at the bottom of the screen. Followers can also send your gifts which can be cashed out into real money. Many popular broadcasters make a living from BIGO LIVE. Learn how to make money from BIGO LIVE.
Main Features of BIGO LIVE
Go Live
We encourage people to share their daily life to the world and aim to build an active social community where people can communicate with video content. Just by tapping a button, you can show your talents and build your following and receive gifts from your supporters.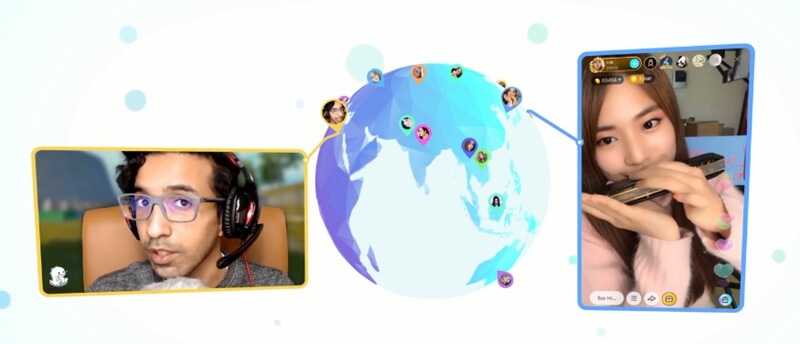 Watch Live Streams
BIGO LIVE embraces millions of talented broadcasters globally. Whenever and wherever you are, open BIGO LIVE, there are always people broadcasting. Passionate dancers & singers, big eaters, comedians, as well as live streaming of popular games, such as PUBG, LOL, RoV, Fortnite, Dota 2, Hearthstone, Rules of Survival and more, etc.
Live Video Chat & Video Call
You can invite friends to have a 1:1 online video chat or even create group video chats or videos calls with up to 9 people via Multi-guest Room. With the match up function, you can start a random chat with people nearby or meet new friends from around the world. If you want to have more fun, there are plenty of video filters and stickers available for you!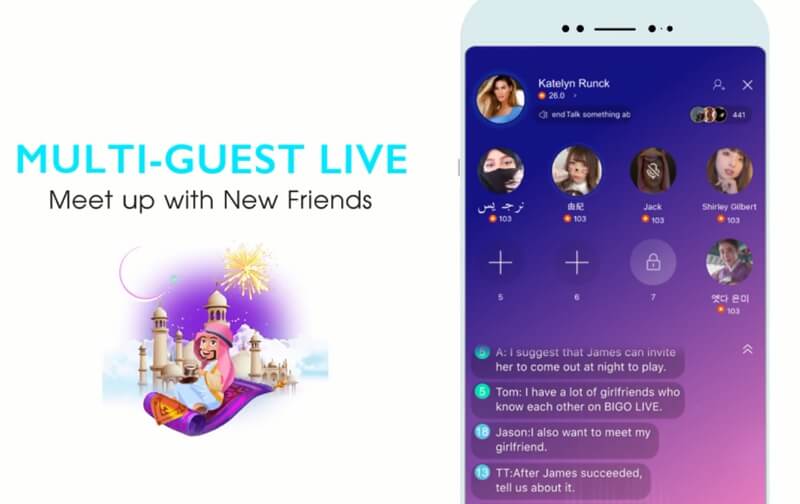 Live PK (Player Knockout)
Challenging your friends or broadcasters globally to a PK is really fun! The person who gets more attraction points will win the PK while the losers have to receive punishments. Feel free to add your own punishments for even more fun!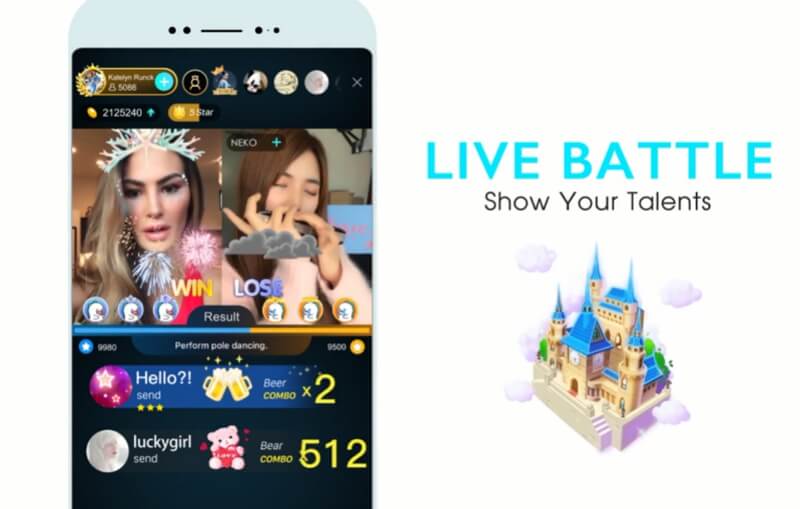 Bar
BIGO LIVE continuously works towards building a global and inspiring social community. Everyday hundreds of thousands of users turn their lives and talents into creative pictures and vlogs and share them on BIGO bar.
About BIGO
Founded in Singapore in the year 2014, BIGO (BIGO Technology Pte. Ltd.) is one of the fastest-growing Internet companies worldwide.

BIGO dedicates to create a better- connected world and provides a portfolio of video broadcast and VoIP related products and services powered by advanced Artificial Intelligence (AI) technology.
BIGO owns BIGO LIVE, a leading global live streaming platform, Likee (formerly LIKE video), a leading short-form video social platform worldwide and imo, a global video communication platform, and other social apps.
What Do People Need to Know About BIGO LIVE?
To a certain degree, live streaming can be risky. There are no rewinds or undo buttons when you are living life in real time with hundreds of followers. And this app is only for people whose age is 17+. If you found your children under 17 using the app, stop it to prevent inappropriate content being sent to your children.
For an adult, you can protect yourself from any inappropriate content by doing:
Block users if you notice inappropriate behavior, bullying, or any other rule-breaking conduct on BIGO LIVE, you may block a user from chatting on your broadcast and profile by tapping on their name, navigating to the profile page, and then choosing "block".
Report someone If someone is being rude, you can report them by tapping on their name and clicking 'report'.
Review the privacy policy and privacy settings on the app to makes sure they are appropriate for you
Launched in 2016, BIGO LIVE has successfully built its global presence and now has a strong user base in more than 150 countries and regions, becoming the world's leading and fastest-growing video live streaming platform. Available on both Apple App Store and Google Play Store, it has more than 200 million users all over the world.
BIGO LIVE commits to become a world-leading video-based social media platform, enabling users to connect the world and explore more fun and possibility in daily life.